Summer books!
One of the unfortunate truths about being an author is that one has far less time to read. Crazy, yes? Happily, I've discovered that one way I can get my "reading" done is through audiobooks. I've always got one or more on the go for walking to and from work, the gym, and while doing housework. It's one of the few multitasking situations that actually work for me, and I get through at least twice as many books (probably more) than I otherwise could manage.
Here are a few I enjoyed during our S&S summer break:
Karen Marie Moning: Shadowfever (hardcover) And To Tame a Highland Warrior (audiobook) This pairing is especially interesting because everything about these books is so different. The writing style at the end of the Fae series is sharp, short, and almost dry—perfect for the development of the heroine. The Highlander book is just the opposite, and it's equally perfect. Moning really is a writer for all occasions.
Jeaniene Frost Halfway to the Grave (paperback) This was a reread. I enjoyed it the first time around and maybe even more the second. I have no idea whether anyone else thinks this, but to me her vampire hero, Bones, bears a marked resemblance to Spike in Buffy. Let's just say you don't hear me complaining.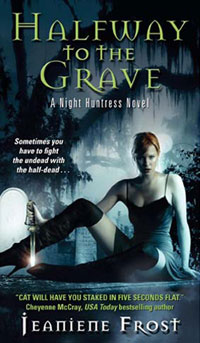 Christopher Moore Practical Demonkeeping (audiobook) If you haven't read Moore and like things slightly weird, he's a treat. I go for a fix whenever I start taking life a bit too seriously. But don't let him fool you – there's often a surprising amount of human truth at the bottom of his bizarre episodes.
Jes Battis A Flash of Hex (paperback) I love this series for a lot of reasons, but a big one is that it's set in Vancouver and I recognize a lot of the landmarks. It's also a cut above so many of the books that try to be paranormal police procedurals. The characters are quirky, the crimes icky, and the science imaginative. They're the sort of books that make Sunday afternoons disappear.
George RR Martin A Game of Thrones (audiobook). What can I say? Pet wolves and swords with names. I'm a happy girl.